HK500 Special Edition Radiator & Baffle Plate
Berühmteste Starklichtlampe der Welt mit Radiator und Prallteller
Einsatz zum Heizen
Glühstrumpf im Lieferumfang
Attraktive Holzbox
Heizdauer: bis zu 3,5 Stunden
---
HK500 Special Edition Radiator & Baffle Plate - Chrom is backordered and will ship as soon as it is back in stock.
Couldn't load pickup availability
Free delivery in DE from 80€

We deliver free of charge within Germany from 80€ shopping cart value.

For all other countries you can find our shipping rates here.
You can find information about the return here.
Dive into the world of strong light.

The HK500 is not only a strong light lamp, but also the ultimate heat source. In our set you get the kerosene lamp with integrated radiator and baffle plate, for heating you do not need a mantle and gas. Do you want the full experience of coziness? Then the HK500 Special Edition is exactly what you need.




The HK500 Special Edition - your outdoor heat source

With the HK500 Special Edition high temperatures are reached. Therefore, it is recommended toplace this heat source on a flat surface.Use your high-intensity lamp as a heat source or as lighting exclusively outdoors.




For outdoor enthusiasts and gourmets

For the true HK500 enthusiasts who like to sit outdoors and prepare delicious meals, the optional cooking attachment is the perfect addition. This accessory allows you to prepare delicious meals while the HK500 provides soothing heat.




Elegance and practicality in a set

In the set you will find both the HK500 with its pre-installed radiator and baffle plate, as well as an attractive and sturdy wooden box, which is enhanced by a unique image of the HK500 and ensures safer transportation. In addition to use in radiator and baffle plate mode, the incandescent mantle can be used to utilize the high intensity lamp as a light source.

Welcome to the world of HK500 Special Edition, where warmth, light and style merge.
Payment options
Your payment is as secure as your next adventure!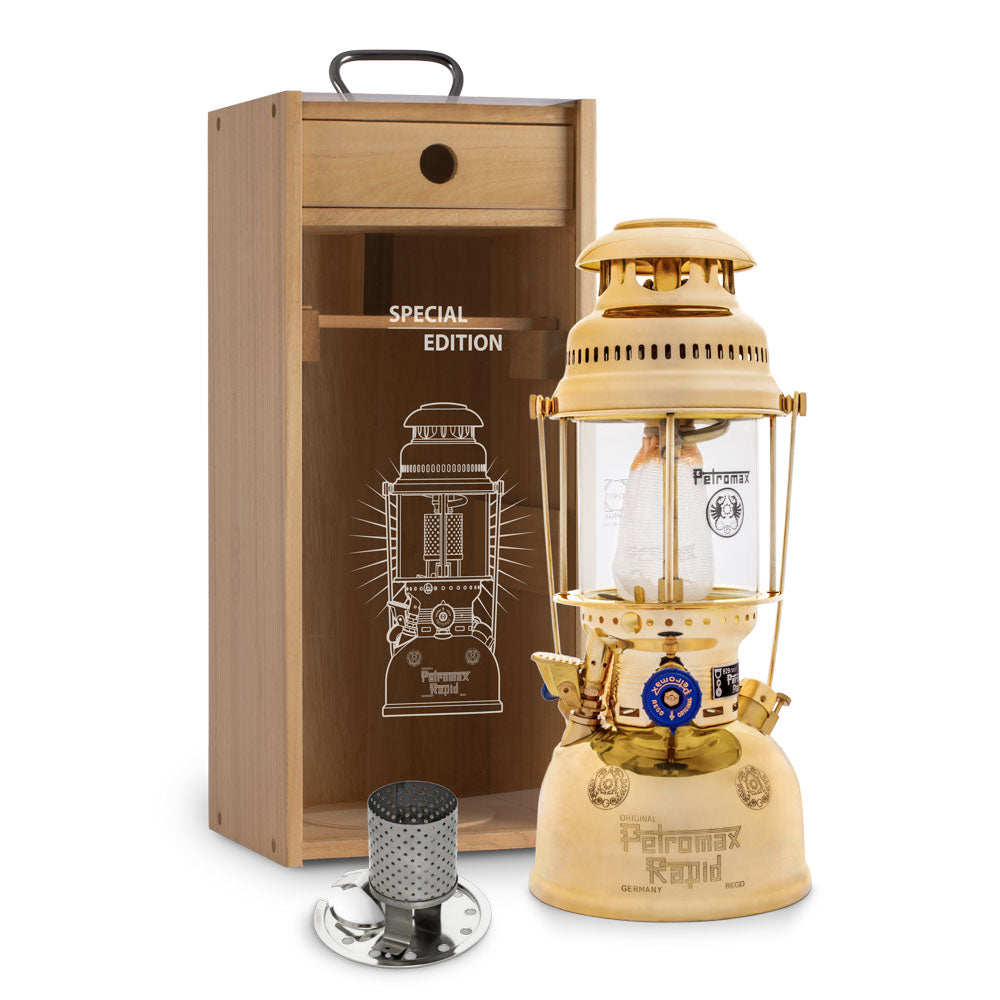 Get even more out of your lamp
Illuminate

Impressive light output of over 400 watts without storm. With a reflector umbrella you control the direction of light.

Cooking

The optional cooking attachment allows you to prepare meals and make tea / coffee.

Heating

The integratable radiator and baffle plate turn your HK500 into a mobile heater. They are part of this set!
How to start up your HK500